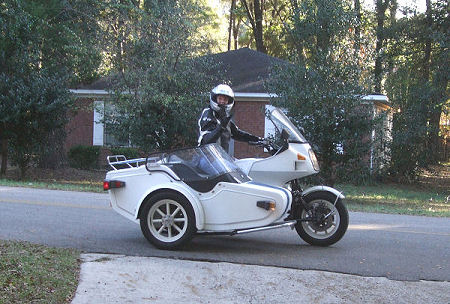 No brake light, no turn signals, no horn, NO PROBLEM!
Being eminently practical, when I asked Gill to let me marry her, she agreed but said she did not want a ring, on accounta it seems silly to spend so much money on a shiny rock that has little function other than to proclaim the unavailability of the wearer and the economic status of the purchaser. She had been contemplating sidecar ownership for some time and, since it is a marriage of a motorcycle and a car, and since we are Motorcycle People, she asked for an Engagement Sidecar instead.
A sidecar is not a thing to be taken lightly. Insufficiently thought out or improperly bodged together, a hack can be a nightmarish, tank-slapping beast. Ebay had quite a few for sale, but only one that really caught our eye. The bidding war went down to the last 90 seconds and when the smoke cleared, we bought this.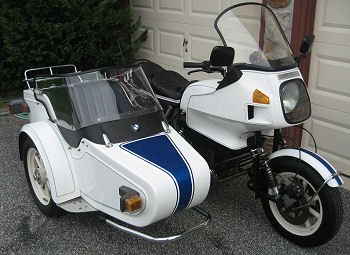 Officially, it's a 1976 BMW R100RT sidecar rig. Actually, it's a complete EML Touring T kit. You can read a thorough description in a period review from Road Rider magazine HERE (from John's Beemer Garage).
Basically EML supplied the frame, wheels, and sidecar. The bike gave up its motor, transmission, electrics, seat and fairing. The end result is a bike which looks very similar to a BMW, but the frame is actually an EML product, which explains why the seat is bolted down instead of attached with hinges and a latch, a fact which confused me until I realized that no, this is NOT the original BMW frame.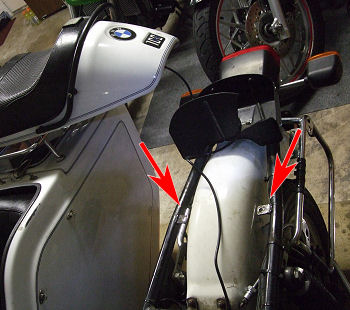 It even gets its own special VIN plate. This one was built by Bob's BMW in Maryland and has a special VIN plate from the commonwealth's gub-ment.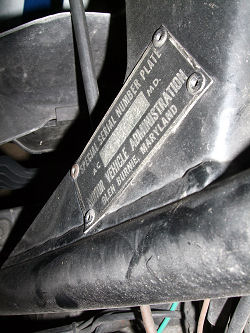 Our bike arrived in great shape and started, ran, turned and stopped as well as any good vintage bike should. We had heard grave warnings of dire consequences regarding sidecar behaviour, but this one is remarkably well-mannered. There is a tendency to pull right when accelerating and left when braking and to weave occasionally at neutral throttle when it can't decide whether it's going or slowing, but the sensation is no worse than riding a normal bike in a crosswind. You do need to be cognizant of the fact that this is NOT a motorcycle, but it is not at all an unpleasant experience.
There was, however, one major problem: the horn, turn signals, brake light and volt meter did not work. They all share a fuse, and that was my suspicion, but my quandry was how to get to the fuse box.
Most modern bikes have a simple, logical setup. Fuses are in a box under the seat, easily accessible and easy to change. Not so in an airhead. As with many older bikes, many of the electrical systems mated up in the headlight bucket, an arrangement that looked neater (on the outside at least) and kept the connections out of the worst of the weather. This was the Age of Lucas after all. On airheads with an accessible headlight, you undo a phillips screw, take off the trim ring, remove the headlight and marvel at the rats nest of wires that you have to root through to get to the fuses. That's interesting enough. Except that on the RT model, the fairing encloses the headlight, adding a further dimension to the project.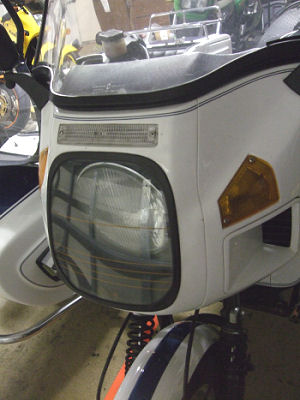 This makes getting to things a potentially daunting job. Even the Clymer and Haynes manuals suggest getting an assistant to help with removal of the fairing. Fortunately those clever Germans have a typically clever German solution. At each corner of the headlight glass (and it is glass, not plastic), behind the rubber trim ring, is a screw.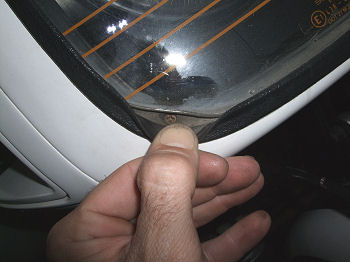 Remove those, and the "headlight shroud" comes right out with the glass still in its rubber gasket.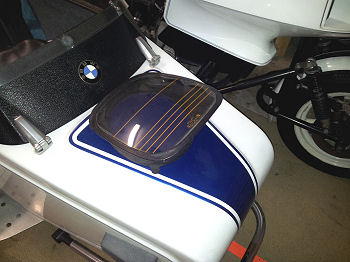 Space is still tight, but tilt up the headlight and you can get a screwdriver in there to loosen the trim ring retainer screw.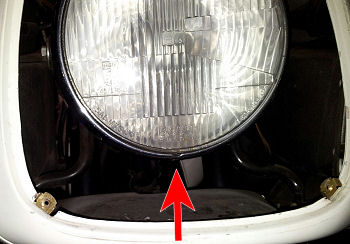 At which point it pukes electrical bits.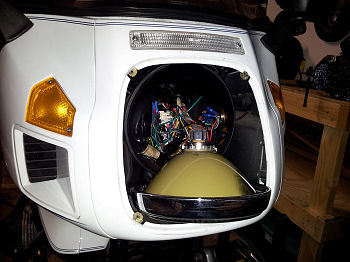 And you can see the blown fuse.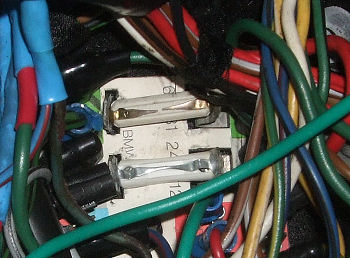 With that replaced, everything went back together in reverse order. The horn, signals and volt meter now worked as intended, and the fuse didn't blow again so hopefully it wasn't a short and was instead just one of those random things that occasionally happens with 37-year-old motorcycles.